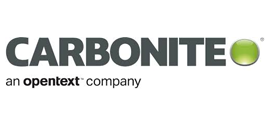 Carbonite is a dynamic, affordable, comprehensive, and secure solution for data backup. Since General Networks does not keep your data on our system, we have found a trusted partner to help keep your backups safe. Carbonite is specially designed to backup Office 365 suits but that is far from the extent of this system's capabilities. Whether you are backing up your personal information, your business, or your corporation's information, Carbonite is the industry standard, trusted by individuals and businesses everywhere.
How Carbonite Benefits Your Organization
Leave Your Security to a Professional
There are some things that shouldn't be attempted by a novice and security is one of them. There are so many different cyber threats putting a constant strain on businesses, it is almost impossible to protect yourself without help. General Networks never recommends using local PC storage to store important company data. Although, for some information, we know it is difficult to avoid. Therefore, we make Carbonite available to our clients for PC-level offsite data backup.
Always Have Access to Clean Files
Security threats always have a chance to break through your localized defenses. There is never a guarantee that you will not become the victim of a virus, ransomware, or spyware attack. Fortunately, if you always have access to clean files and safe backups, the threat becomes a mere inconvenience, if it even happens at all.
Advanced Encryption
Data encryption is not only necessary for spy files and major corporations. With the advancement of digital transactions, information, and communication, encryption is a vital part of every system's security protocol. With Carbonite, your files are encrypted at rest and in flight. Therefore, your files are protected no matter what you need to do with them, or how long you keep them in your backup.
Affordable Plans to Fit Your Budget
Running a business is often a costly endeavor. Fortunately, backing up your files and keeping your system's information secure is affordable. Carbonite offers plans for every budget, from individual backups to large business entities. Keeping your business, your customers' information, and your credibility in-tact does not have to cost a fortune. You can find a plan that fits both your needs and your budget at Carbonite. Carbonite's dedication to serving its customers with quality and safety is a common trait that Carbonite and General Networks share.
FREE CONSULTATION
Schedule a complimentary consultation with our team of specialists and information technologists.