M-Files Quality Management System (QMS)

An Out-of-the-Box Solution for Daily Quality Management
With M-Files QMS, all quality documents and data are linked together within a single system, enabling organizations to optimize quality processes while streamlining compliance activities and audit requirements.
M-Files QMS helps your organization:
Meet quality certification requirements (ISO 9000/9001, CE labeling, etc.)
Manage documentation requirements for compliance with laws or regulations
Achieve smoother and more efficient periodic audits
Manage all information related to manufacturing quality-intensive products or services
Reduce risks of financial loss, missed timelines, safety issues or reputation damage
Improve Quality Systems and meet Quality Certification requirements
M-Files QMS Modules:
Document Control
Personnel Database
Training Management
Building Inventories
Quality Assurance
Repeating Quality Tasks
Award-winning Enterprise Content Management (ECM) for storing and organizing all quality-related electronic files, scanned paper documents, email messages and other vital data.
Flexible and easy to configure for the unique and specific needs of individual businesses
Preconfigured templates for quality processes and workflows covering common quality requirements and policies (such as ISO 9001)
Built in reporting engine and calendar designed to instantly notify key QMS users about ongoing, near future, and overdue quality tasks
Location independent with support for browser only and mobile devices for anytime, anywhere access to critical quality information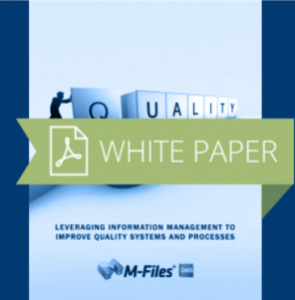 Contact Cathy Ashbaugh at
cashbaugh@gennet.com
to discuss how your organization can meet quality certification requirements with M-Files® QMS.
FREE CONSULTATION
Schedule a complimentary consultation with our team of specialists and information technologists.