FileFacets



Better understand what you have, what it is, and where it is, so that
you can action it appropriately.
Try our free Content Analytics Dashboard to see how FileFacets can help you identify and present content from multiple systems into a single, enterprise-wide view
FileFacets: Privacy Compliance & Enterprise Analytics
FileFacets' analytics and content migration platform makes it easy for businesses to manage and migrate files by automating the categorization of data, the attribution of file metadata and the migration of unstructured content from multiple sources into structured files, data, and ECM repositories.
FileFacets' automatic file sorting algorithms make it simple for organization to locate essential data. The solution can access and scan files without interruption and detect duplicate files before moving them.  Additionally, FileFacets analyzes and leverages file metadata and generated full text content.
FileFacets addresses the need of all Records Management and Information Governance professionals to establish and maintain control of enterprise-wide records.  It is designed to support policies and processes that:
Remove ROT files (Redundant, Obsolete, and Trivial)
Isolate duplicates
Add metadata
Build out target taxonomies
Facilitate auto-classification of content
Migrate data to numerous platforms or repositories

Content Dashboard
Locate & View
Content across the entire enterprise
Find what you have.
FileFacets discovers source content from multiple sources and collects the properties and attributes of these files.

Data Discovery
Locate & Process
Content across the entire enterprise
Keep what you need.
FileFacets scrubs for all Redundant, Obsolete, and Trivial (ROT) files and identifies specific content across multiple repositories.

File Cleanup
Locate & Process
Redundant, Obsolete, and Trivial (ROT) data
Migrate with confidence.
Build out your target taxonomies, automatically apply the metadata to your files and move your content into your new ECM.

Privacy Compliance
Locate & Process
Personally identifiable information (PII)
Monitor continuously.
Identify ROT for cleanup and removal, identify PII for appropriate habdling, and keep your shared drives clean and compliant.
Make File Management & Migration Easy with a Single Tool for: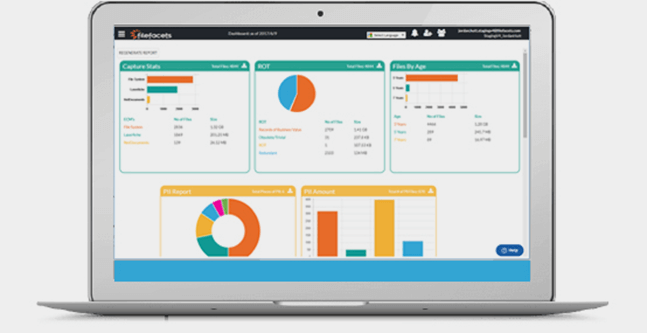 Other Content Management Solutions
FREE CONSULTATION
Schedule a complimentary consultation with our team of specialists and information technologists.