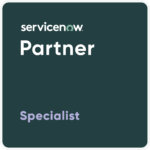 Improve workflow efficiency across departments
Replace email and spreadsheets with collaborative workspaces and automated business services. Create a modern work environment by placing a service-oriented lens on the activities, tasks and processes that make up day-to-day work life. This service model enables enterprise service domains to define services, provide an intuitive service experience, deliver service, assure service availability and analyze critical service metrics.
Transform IT into an Innovation Engine
With ServiceNow Service Management Suite, you can refine, structure and automate the flow of work to streamline service delivery. Underlying effective service management is a common service model that connects providers and requestors.
Service Management Solutions
Improve IT Service Delivery: ITSM solutions give you end-to-end visibility into your ITIL processes and infrastructure through a single system of record for IT. This enables you to consolidate fragmented tools and legacy systems, all while automating the service management processes. Our simple and consistent approach increases your efficiency, lowers your costs, and helps you devote more time to innovating and delivering the consumer-like self-service experience that your users expect.
Facilities Service Management: Now you can manage, visualize, and optimize the cost of occupancy. Facilities requests are automatically assigned to designated facilities specialists or teams using configurable rules. Integrated reporting provides insights into volume, types of requests, and individual workloads so that facilities teams can optimize resources, improve preventative maintenance cycles, align services with company priorities, and demonstrate impact to the business.
Field Service Management: Efficient field services speed delivery, increase customer satisfaction and boost productivity. Yet a distributed workforce, human error, communication breakdowns, wasted trips, and lost paperwork often hamper your productivity. Our Field Service Management solutions ensure that work orders are assigned to the right person, with the right inventory and tools, at the right time. You can then replace spreadsheets, email and homegrown management tools with a system of engagement that delivers efficient, fast and effective services.
HR Service Management: HR Service Management streamlines and improves HR service delivery by offering a consumer-like self-service portal to employees along with out-of-the-box request and fulfill process automation. An HR service catalog presents employees with pre-defined services such as benefits or employee relations items. Once requests are submitted through the HR service catalog, cases are automatically assigned to a designated human resources specialist or team for fulfillment. Integrated reporting provides insight into volume, types of requests, and individual workloads so that HR management can align services and resources, and identify opportunities to improve both services and HR operations.
Security Operations: When it comes to Digital QMS, security teams need better visibility into their security posture. They also need to minimize time invested in simple issues so they can focus on attacks that have the potential to be truly disruptive. Security Operations connects security data from leading vendors with our advanced workflow and systems management. The result is a single source of truth, and a response platform that helps organizations maximize effectiveness while maintaining consistent communication channels with IT, HR, Legal, and other teams.
Legal Service Management: Provide an intuitive self-service portal that delivers a consolidated view of submitted work, reporting, service level agreements, and built-in workflow. It provides a knowledge base to centrally manage legal knowledge, research, and documents. This provides management the necessary information to improve quality of work, thereby increasing customer satisfaction. The result is that our Legal Service Management application helps legal departments get control of demand for work and service delivery and enables them to focus resources on strategic priorities.
CONTACT US
Want to discuss how your organization can realize immediate benefits in productivity with ServiceNow?
Other Business Process Management (BPM) & Workflow Solutions
FREE CONSULTATION
Schedule a complimentary consultation with our team of specialists and information technologists.