K2 Blackpearl and SmartForms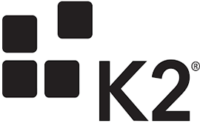 K2 is a software platform that allows organizations to quickly build and run business applications that include forms, workflow, data and reports. With K2's visual tools, creating, launching and using the first K2 application is a snap. Reusable components ensure the next application delivers faster than the one before, and when the business needs change, it is easy to update your K2 application to fit.
Forms
K2 provides a faster, easier way to create forms for business applications. With our drag-and-drop tools, code isn't necessary, and a powerful rules framework allows you to stay in control.
Workflow
Intuitively design workflows that connect people to information and work – from basic task routing to complex enterprise-wide solutions.
Data
Use visual tools, not code, to build reusable objects that use line-of-business and web-based data, regardless of where it lives.
Reports
Get real-time insight into process status and track the progress and performance of your applications. Easily create reports that combine business and workflow data.
K2 applications can be set up to manage simple business processes – such as document approval or inventory tracking – and they can be set up to pull together business processes, people, services, information and systems into a single application that helps drive business. Then, what's been built can be used like building blocks to assemble new applications.
Because K2 tools are built on Microsoft technology and because K2 users actually complete work in the Microsoft programs they already know – like Visio, Visual Studio and SharePoint – little training is required and user buy-in is quick. K2 Automation software provides more integration points and deeper integration with Microsoft than any other software product in the space.
As top K2 consultants, we have a range of products to meet the needs of organizations with varying business needs, technical resources and budgets; because, in software, one size does not fit all.
CONTACT US
Learn more about K2 as a software platform and how it can benefit your business processes.
Other Business Process Management (BPM) & Workflow Solutions
FREE CONSULTATION
Schedule a complimentary consultation with our team of specialists and information technologists.